The recent trend in satellite technology is the deployment of a constellation of satellites that are smaller in size and weigh less than conventional single-body satellites. These satellites are of different sizes (nano, micro, and cube) and their functionality is highly dependent on the topology and remote sensing technology embedded in them. The biggest advantage of distributed satellite systems is that they are miniaturized cost-effective solutions. This new technology of distributed systems makes more sense from the business point of view. The rapid advance in space technology, application of 3D printing in manufacturing, improvements in temporal and spatial technology, launch windows, low-cost development cycles are changing the business landscape pertinent to science and technology. These satellite systems can have vast use cases and are very versatile and flexible. Developing miniature and identical satellites have major positive impacts on the bottom-line of businesses. This disruption in space technology has introduced many cost-cutting practices along with the elimination of redundant technology in conventional single-body satellites that requires long research and manufacturing cycles. Vendors of distributed satellite systems harness quick adaptive manufacturing and software interfacing to provide the best solutions to clients in dire need of data.
In the present world, data plays a major role in areas from Earth observation to business processes. While there are numerous source systems present on the planet, they can only provide minimal data to research and weather stations. The design of source systems directly impacts the capture and quality of data received. When it comes to use cases like weather monitoring and earth observation, the data collected has to be highly relevant and accurate. Hence the source system design for this were previously conventional single-body satellites. A disruption was long due, and it led to the concept of distributed satellite systems that are more decentralized and robust for provision of real-time data collection at high volume. The network of satellites reduces the time intervals between consecutive data capturing. Small satellites carry payloads such as infrared, optical, radar, satellite-AIS, ADS-B. The complexity now lies in communication systems.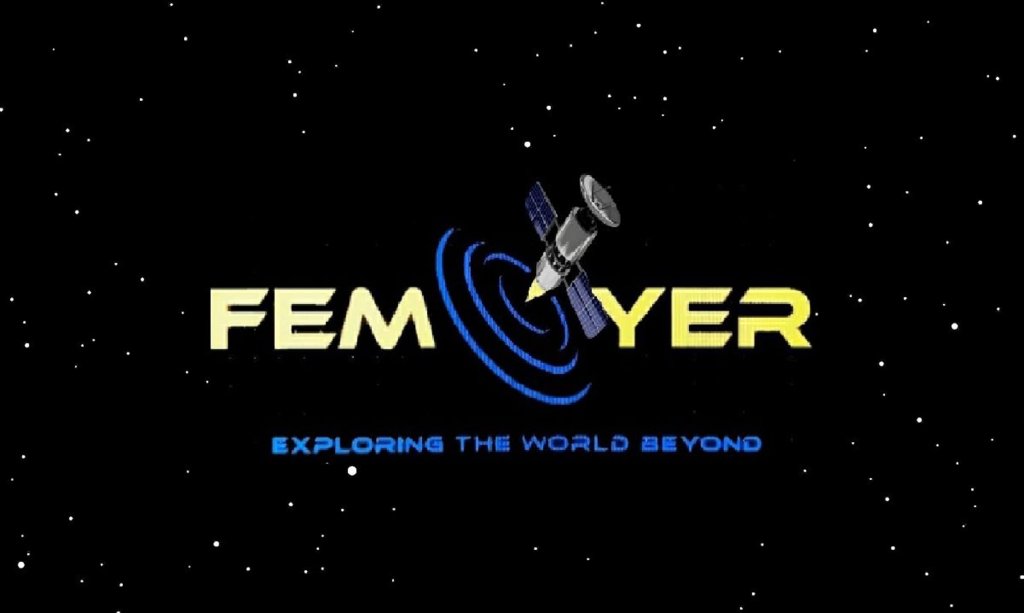 Satellite-to-satellite, satellite-to-ground communication systems must be very effective to carry out the required manoeuvres.
Team Femoyer set out on a journey to solve the biggest risk femto satellites face, their effectiveness compared to single body satellites. Many trade-offs were conducted to use components that are compatible with the femto-satellites. Earlier femto satellite missions consisted of components that were either COTS (Commercial-off-the-shelf) or developed particularly for the mission. We as a team made sure that every part of the mission was covered thoroughly. This ensured that the femto satellite would work in theory, a required outcome for this internship. Some of the biggest challenges came in the form of power and orbital selection.
These were eventually overcome with the help of our mentors.
Team Femoyer consists of 15 talented individuals, specializing in their own fields, or ended up specializing in it during the internship. Each subsystem had its respective leaders who eliminated redundancy to improve the overall working of the team. Taking inspiration from SSERD, we began having fun sessions after almost all of our intense meetings. Our mentors- Mr. Akshay Choudari, Mr. Vishnuvardhan Shaktibala and Ms. Rashika SN played a huge part in motivating the team towards the correct path.
We are grateful as a team to have had this immense exposure provided to us by SSERD, and their founders, Ms. Nikhitha, Mr. Sujay Sreedhar, and the Head of IPD, Mr. Mahesh. The team in itself has people from diverse locations. This made the interaction all the more fun and interesting.
– Written by Team Femoyer

For more information on the team visit the website of Team femoyer, Team Femoyer is a part of SSERD's Internship and Projects Divison's Online Research Internships