Time of Event : 15 August 2020, Saturday, 05:30 PM – 06:30 PM [IST]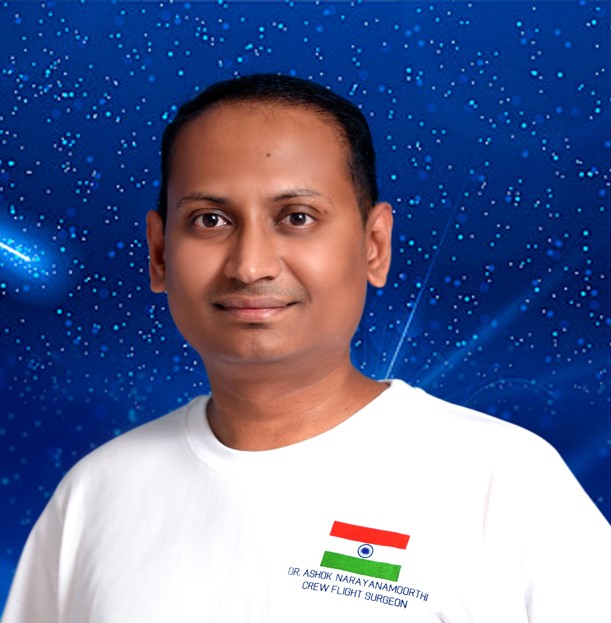 Dr. Ashok Narayanamoorthi was a graduate of Class 1801 Scientist-Astronaut program of project PoSSUM (Polar Suborbital Science in the Upper Mesosphere) which is the world's first and only crewed suborbital research program supported by NASA's Flight Opportunities Program. Dr. Ashok successfully completed the rotation at the Mars Desert Research Station (MDRS), Utah, USA as Crew Flight Surgeon/Health & Safety Officer for Crew 192. Dr. Ashok is an analog astronaut with Mars Academy USA. He recently completed the rotation with MAUCrew1115 as Health & Safety Officer at Vasquez Rocks, California, USA. Dr. Ashok is the first Indian Citizen selected as candidate for Project SIRIUS (Scientific International Research In the Unique terrestrial Station). This is launched by Russia's Institute for Biomedical Problems (IBMP) in collaboration with NASA's Human Research Program (HRP) along with other space agencies like ROSCOSMOS, CNES, DLR, etc. This program simulates the future Lunar Orbital Gateway platform.
Dr. Ashok is a highly skilled flight surgeon having rich global intercultural and interdisciplinary experience in aerospace medicine and clinical research. He obtained his medical degree from Madras Medical College under the Dr. MGR Medical University. He did his residency at the Institute of Aerospace Medicine under Indian Air Force affiliated with Rajiv Gandhi University of Health Sciences. He did aerospace medicine research rotation at NASA's Johnson Space Center affiliated with University of Texas Medical Branch and Wyle in Exploration Medical Capability Element for Moon, Mars and Near-Earth asteroid mission. He completed Southern Hemisphere Space Studies Program with International Space University and University of South Australia.
Dr. Ashok has ten plus years of clinical and research experience with a special interest in space medicine, human factors, extreme environment & life support system, space analogue mission, clinical genetics, patient safety and aero-medical training of aircrew. He is a member of Indian Medical Council, Indian Society of Aerospace Medicine, Royal Aeronautical Society (UK), Drug Information Association and Austrian Space Forum. He has several professional certifications. Dr. Ashok had worked in clinical research organization and is an expert in pharmacovigilance and drug safety. He has published in several national and international journals.He has received several awards and academic distinctions. He is fluent in Telugu, Tamil, English and Hindi, and conversant in basic Arabic, Kannada and Malayalam. Dr. Ashok is an ardent STEAM education advocate.
Dr. Ashok is a certified Hypobaric Chamber, Spatial Disorientation Instructor, Night Vision System Instructor, MedDRA, WHODrug, CITI-Biomedical Research.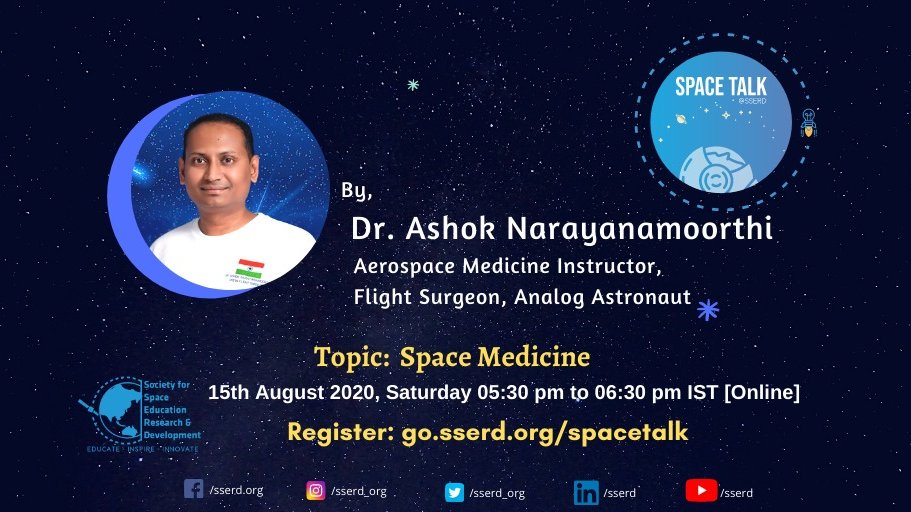 Stay Updated! Follow us on Social Media