Living in space has been the dream of many, and Opus of Armor Paradise is the first of its kind space settlement. Created by 12 people obsessed with space, Opus is your dream of living in space come true. Why do we call our settlement as OPUS of Armor Paradise? OPUS refers to creative or artistic work. Armor indicates that settlement offers protective (armor), lovely (amor) environment in all aspects. Paradise is used to say our settlement is a place of exceptional happiness, contentment, and fulfillment. Paradise is often considered as a 'higher place' above Earth, which is literally and technically true in our case.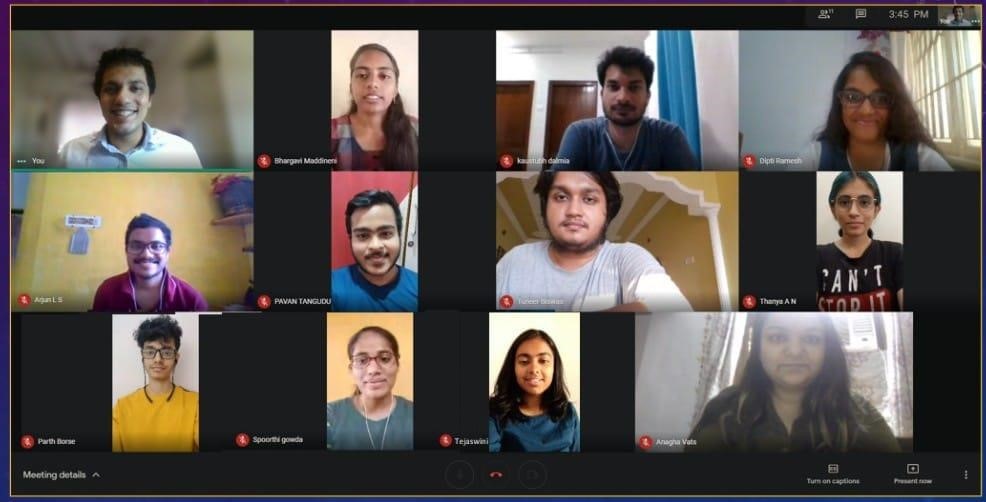 Current technology/knowledge is sufficient to provide livable, comfortable space settlement like OPUS. OPUS has the capability and strength to become the new Earth and to solve the issues of overpopulation, pollution and resources. Our solar system alone can provide a hell lot of energy and materials needs of the whole population of Earth. OPUS can act as a bridge to access the invaluable resources of space.

Coming to our internship, we had a lot of brainstorming sessions right from the start. We assigned tasks based on our strengths and interests. We focused more on the safety of the colonists than all the other aspects. The other exciting thing is that all the decisions we took were thoroughly discussed and democratically selected.
Below are some experiences shared by our Team-mates:
Anagha
Being a part of SSERD journey was truly amazing, getting in touch with new people who have the same interest. Team OPUS is all ready to settle and explore the beyond!
Arjun
First of all, I extend my gratitude to SSERD for providing us with the opportunity. Its been a great run and it was nice getting to meet people from different backgrounds of engineering. The whole process was a great learning experience and I think it was the same for the others too.
Bhargavi (Co- Lead)
Space is always fascinating and exciting. I'm grateful to SSERD for giving me a great team and opportunity to work with them. This whole internship period has been a roller coaster ride for me with a lot of brainstorming meets. This is my first research internship and I had this opportunity to work with the best team I can ever imagine. This internship improved my time management, decision making and creative and communication skills.
Dipti
Since the age of 3, I dreamt of exploring the Space. My Internship at SSERD has provided a huge learning platform to open my wings and soar to greater heights and to start exploring the magnificent world beyond. I was nervous at first, but everyone here in SSERD treated me delightfully and made me feel comfortable. I learnt and understood how to go about practically be it reports, presentations or research. This will be one of my fond memories to cherish and will always be a source of motivation to realize my dream throughout.
Kaustubh
I want to create things I wish existed. Everything about the sky fascinates me. At the age of 10, I got my first telescope and never got down from the terrace. I not only love exploring the night sky and celestial body but also capture it all. Hence, I take keen interest in astronomy and astro-photography. Aero- modelling gives me a sense of relaxation and peace especially when I fly my models. It's truly an escape for me. I loved working with my team.
Parth Borse
The experience I had at SSERD was very rewarding. I came to understand that there is so much to learn and apply in the world. It helped me understand the importance of team dynamics. Overall I really enjoyed my time working on this project and I look forward to more.
Pavan Kumar
Team Work is the first ever thing to get succed as a team. I am very gratefull to my teammates for making this possible and SSERD for giving this opportunity, mainly to work on Designing is my interest and i always fascinate about it.
Shubham (Leader)
A fun and unique experience in creating a space settlement concept, something that I had never thought about before. It was interesting to see all the references perspectives of people who had come from all over the country, and creating a small community of engineers in designing the next big leap for mankind.
Spoorthi
This internship taught us to make our own decisions and do things on our own and provide us the best way to learn how to navigate the working world through real life, hands-on experience. I would like to thank SSERD for providing us this platform to innovate ourselves. My thanks and appreciation to team Opus, (special mention to our team co-ordinator, team leader & co-leader), it was great working with them. Thank you SSERD.
Thank you Team Opus.
Tejaswini
SSERD internship experience was a great opportunity to learn and collaborate with so my people having various skills and passion for space settlement design. I had a great time designing and learning with all the other technology enthusiasts.
Thanya
SSERD provides the right platform for space enthusiast to gain and improve their knowledge in the field of aerospace. As an intern, they guide us through all the aspects starting from where to do our research, the do's and don'ts to be considered while writing a research paper, etc. The mentors are highly qualified and experienced to help us through the process.
Tuneer
It was a new learning experience, with ample reading and literature review. I liked Pavan Kumar sir's lectures, they were extremely eye opening. Learnt a lot with my team.
Thanks.
Regards
OPUS can be a better place for our endangering humanity. It provides the basic framework of how a space settlement should be like. We finished the project by providing the essential topics which are well thought in order to make a thousand people survive in a healthy and safe environment. When it comes to reality there are a lot of minute topics that need to work on for the stability of the settlement.
– Written by Team Opus

For more information on the team visit the website of TeamOpus, Team OPUS is a part of SSERD's Internship and Projects Divison's Online Research Internships